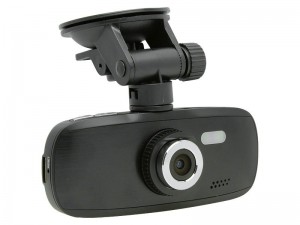 Technical Details
- Max. resolution: 1920×1080 @ 30fps
- Price: see Amazon US
/ Amazon UK
(more vendors below)
- Bit rate: 15 Mbps
- WDR Super Night Vision
- 2.7″ Screen
- Medium size (113mm x 46mm x 32mm)
- Angle of view: 120° diagonal
- Video format: MOV
- Photo format: JPG
- Photo resolution: up to 12M
- Time and date stamp on video
- Supports up to 32GB MicroSD cards
- Loop recording, auto on/off, G-Sensor
- Interfaces: HDMI, USB
Review
The G1W (also known as GS108) is a cheap dashboard camera of Chinese origin. Despite its low price, it delivers high quality video in 1080p resolution. Released in mid 2013, the G1W easily outperforms any of the competing sub-$100 dash cam models as far as image clarity is concerned.
At day time, the G1W's video quality could easily compete with cameras twice its prize, if it weren't for an inherent shakiness of the footage. This seems to be the major drawback of this camera model. You probably wouldn't choose the G1W to record scenic routes or artistic scenes, but it is still very much suitable if you mainly need it for security and evidence in case of an accident.
At night, the G1W's footage seems a bit fuzzy, but due to its Wide Dynamic Range (WDR) feature, night video quality is definitely superior to what other cameras in this price range deliver. The G1W originally cost around $80 but can now sometimes be found for $60 or less (check out the links below).
While it is not the smallest dash cam model around, it fits nicely behind your rear view mirror. With loop recording, auto on/off, a G-sensor and in-built motion detection, it covers the basics that a dash cam can't do without. While it doesn't have GPS, it sports a 2.7″ screen so you can watch what's recording as you adjust the device.
The G1W does have kind of a cheap feel to it, being made of rather light materials. Material costs have obviously been kept low in order to make this device as affordable as possible. Customer feedback has been largely positive so far.
Due to its superior video quality, the G1W easily replaces the DVR-207 as the top choice in the lower price segment. However, as with most cheap dashboard cameras, there may be low quality fake versions on the market, so make sure you buy from a reputable seller like the ones listed below.
Video Samples
For full original video quality, make sure to watch on full screen and select maximum video resolution (use the cog icon in lower right corner). You may have to rewind the video after changing the resolution.
Day Time Video Sample
Day time video quality is crystal clear. Note how easy it is to read license plates even from medium distance. The video is a bit shaky though, so it might not be the best choice for artistic use. But if you need the dash cam only for evidence in case something happens, the G1W is definitely fit for purpose.
Night Time Video Sample
Night time video is a bit blurry, but acceptable for a camera of this price. It is tricky to read license plates while driving, but when stopped / up close they are clearly visible even at night.
Where To Buy
The G1W is available for sale from the following vendors:
Amazon US
Amazon UK